The Phuket Hotel Market is booming. Record highs in tourism are pushing growth considerably throughout 2016. So far more than 1.4-million passengers have come to the area from 31 different cities in Greater China. They are sending numbers soaring in both the geographic source market and in air transport. There is a notable rise in Russian-based tourism also which is bringing a welcomed diversity to the Phuket Market.
Some of the most important trends happening are also giving clear signs of where the area is headed. There is increased demand in short-haul routes from the January to May timeframe of this year. This demand showed that low-cost carriers saw a 26% growth since last year in passengers on their flights head to Phuket.
In addition, Russian passengers increased from 11% last year to 13% this year so far. The total number of people arriving to the Phuket airport has grown since last year by 19%.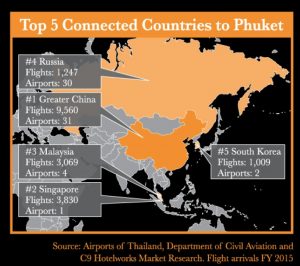 The outlook for Phuket is encouraging. Between 2016 and 2019 there is an aggressive plan to create 32 new hotel projects. So far 28 of those hotels are brand-affiliated. This is a sign of the expectation and growth rate of the province of Thailand. It also is a sign that the area will continue to flourish and develop in coming years.
There was a decline of 4% in ADR, however the RevPAR was offset by a 9% boost in occupancy throughout the same amount of time. Again- this is a healthy sign for the area that growth has a steady hold and will not wane any time soon.
Although the Phuket Hotel Market saw increased numbers mainly from China and Russian, they also had tourists from Korea, Australia and France making up large portions of the rise in passengers. The hotel supply is set to jump by 10% with more than 56,000 keys by the end of 2019. The area focused on for the most immediate development is Patong, followed up closely by Kamala, Bangtao, Phuket City and Chalong Bay.
Another trend is the large key hotels. Namely Sheraton Phuket Grand Bay, Centara Grand Moringa Resort and Spa Phuket, Courtyard by Marriot Phuket, Best Western Premier Himalai, Hilton Phuket Patong Resort and Premier Inn Phuket Nanai are the biggest keys in the area. Each one is focused on high-end marketing to neighboring countries to maximize their visitors throughout coming years. Considering the projections for growth, they will have competition but also a lot of opportunity for growth.
Phuket also has higher numbers in airlift than former years. It sees over 9,500 flights from Greater China, over 7,100 flights from Southeastern Asia, more than 1,100 flights from the Middle East and about 550 flights from both Australia and Western Europe. The area is seeing huge growth and the Phuket Hotel Market is going to do its best to offer top-service and accommodate for the surge of new visitors.