Reputation Management System
Measure impact on online review sites and analyze online review data, department performance

and trends accurately through various reports and customizable dashboards.
REPUTATION MANAGEMENT
MEASURE IMPACT ON ONLINE REVIEW SITES

Analyze online review data, department performance and trends accurately through various reports and customizable dashboards. Identify pain points and resolve them quickly get a birds-eye perspective on various details such as OTA level Performance, Comprehensive Group Reports and Competitor Analysis.
ISSUE RESOLUTION
COLLABORATE ON ISSUES IN REAL TIME – Create issues on problems identified in guest feedback and online reviews and control assignment and resolution through a single dashboard. Increase operational efficiency by addressing issues in real-time and tracking their resolution process.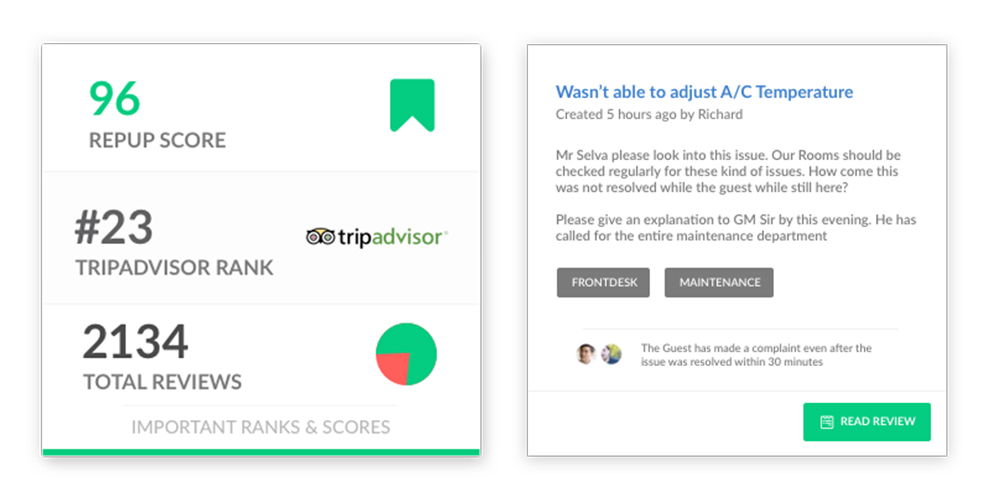 FEEDBACK SOLUTION
GET OBJECTIVE FEEDBACK FROM GUESTS

Create beautiful, customizable feedback forms and generate reviews at a much faster rate through direct integration with TripAdvisor. Act on issues before they go online as negative reviews. Get upto 100% more reviews on platforms like TripAdvisor, Google and Holiday Check through direct integration.
STAFF APPS
EASE STAFF COMMUNICATION AND WORK AUTOMATION – Straightening staff communication, request management and to increase the operational efficiency of each hotel department. You should manage entire operations and communication from a single dashboard through smartphone apps.
MOBILE CONCIERGE
DELIVER HOTEL SERVICES TO YOUR GUEST'S SMART DEVICE

Provide guests with a webapp based personalized virtual assistant with property overview, area info, upsell options, direct communication, request interface etc. These Improves overall guest satisfaction, leading towards more positive reviews and more revenue generation.
INTELLIGENT CRM
GUEST INTELLIGENCE & HISTORY – CRM does help to maintain an entire guest history and profile parameters like preferences in a single view.
GUEST REQUEST MANAGEMENT
COMMUNICATE & HANDLE ISSUES IN REAL TIME – Communication with guests in real time through a single dashboard is an effective way to control request assignment and management. Create and receive requests from guests and escalate unresolved requests with notifications to concerned departments in real time.
MARKETING AUTOMATION
AUTOMATE & PERSONALIZE MARKETING COMMUNICATIONS – RepUp Marketing Cloud lets you run rule-based, highly personalized automated marketing communications based on different guest segments and provides detailed reports and analytics for all campaigns throughout the platform.  This helps Increase revenue from direct bookings and ancillary revenue. Run targeted bring-back, birthday/anniversary, holiday & loyalty campaigns.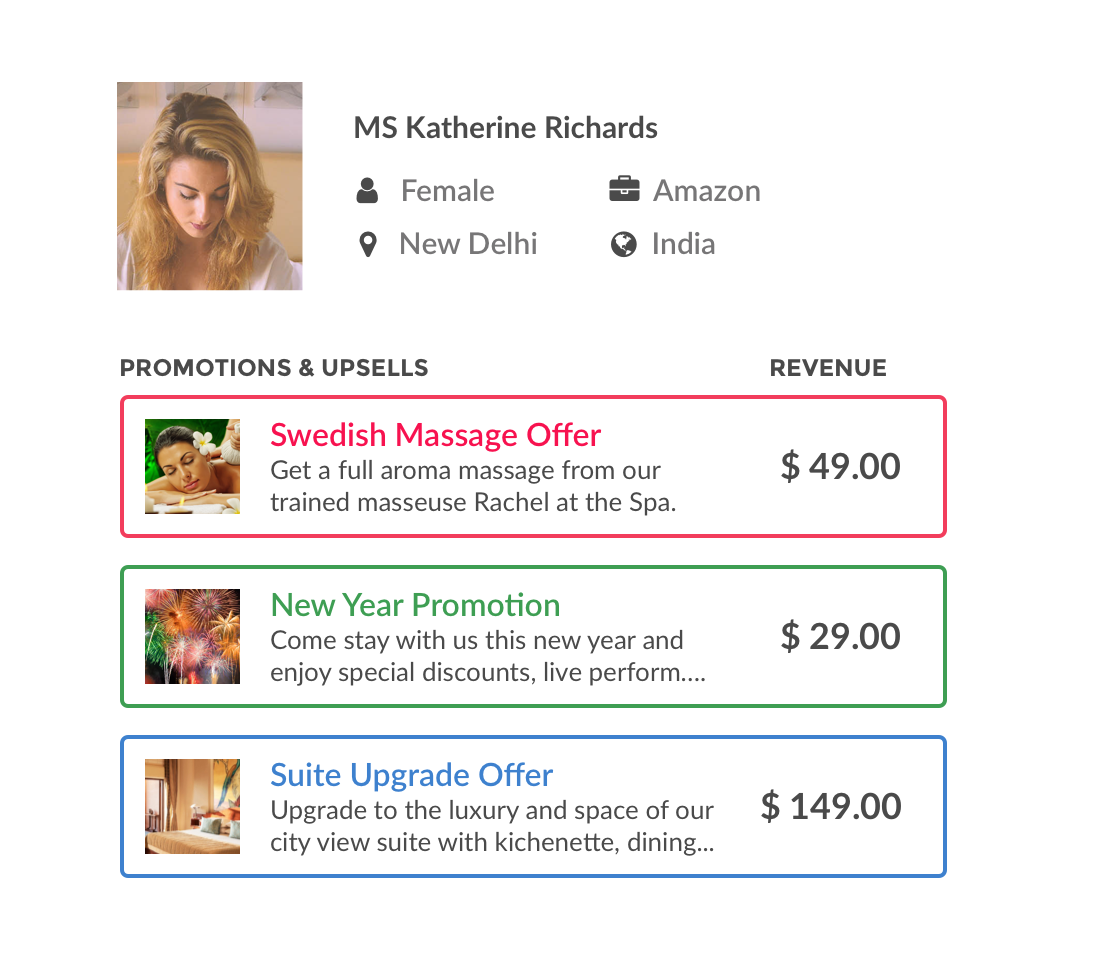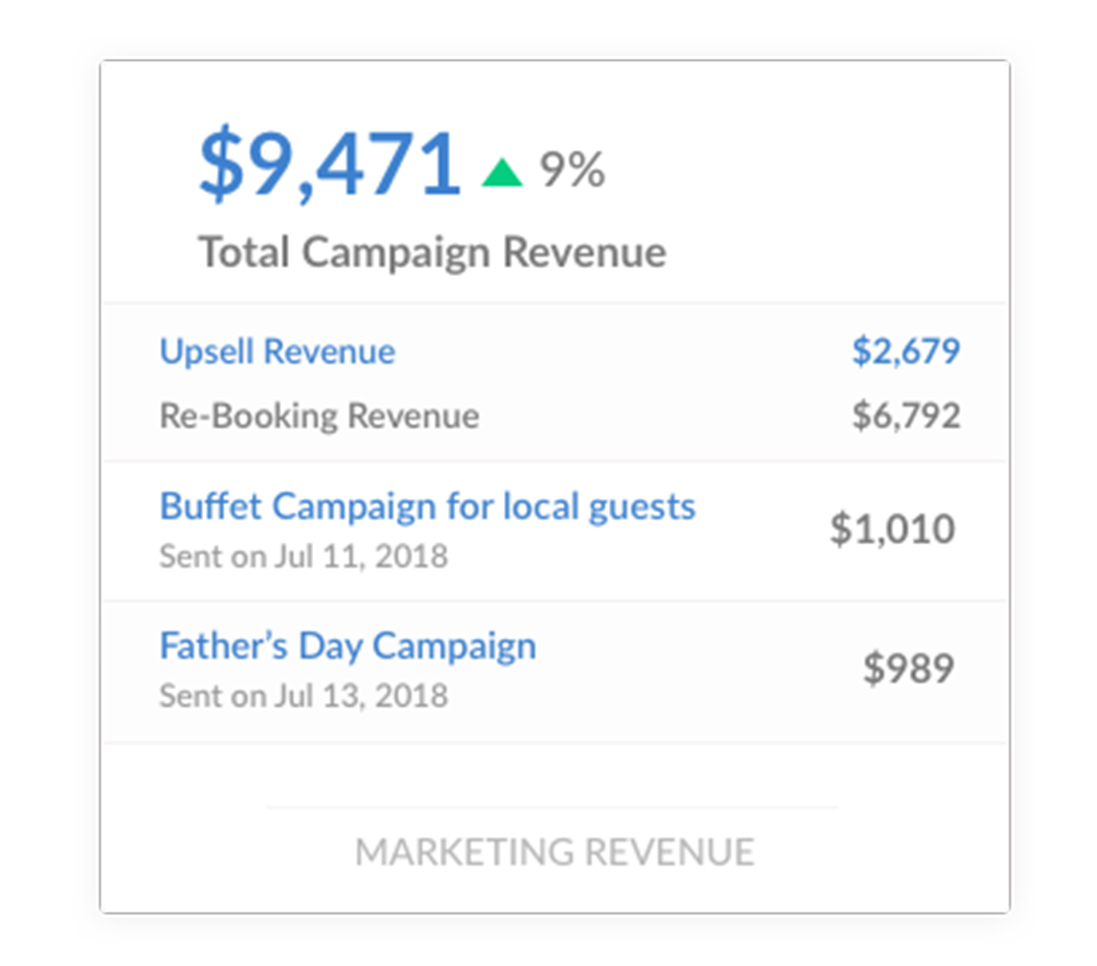 GUEST CRM
KNOW YOUR GUESTS

Analyze data from various points to create smart guest profiles which consist of vast arrays of guest data, from likes & dislikes to past experiences. This helps you to properly segment the guests under various categories, making personalized marketing easier.

PRE ARRIVAL & IN-STAY UPSELLING

Generate additional revenue by offering personalized upselling packages from room upgrade offers to spa services, late checkout, tours etc. Get unexpected revenue through upgrades which guests wouldn't usually buy otherwise.

WELCOME GUESTS PRIOR TO ARRIVAL

Automated pre-arrival emails should be sent to guests for effective and personalized first impression of the property. Good guest relationships should begin right from bookings and help guests feel welcomed prior to their arrival.

LET GUESTS PLAN THEIR STAY PRIOR TO ARRIVAL

Enable guests to fill preferences and buy upgrades even before arriving at the property. Make check-ins faster by knowing your guests in advance. By automating the check-in process, our CRM system allows hotels to save time and increase efficiency.
INTELLIGENT CRM
GUEST INTELLIGENCE & HISTORY
CRM does help to maintain entire guest history and profile parameters like preferences in a single view.